Greens have recently completed several refurbishments of external, pre-finished cladding where the paint system has failed prematurely. As part of our commercial building refurbishment services, we are specialists in restoring tired cladding to bring your building back to life. Take a look at our two most recent cladding decoration projects in West Yorkshire.
FTL, Leeds
Using either tower scaffolding or powered access machinery, we first ensure that all of the failed paint is removed from the substrate. This is usually done mechanically to ensure that any coating that remains is well adhered.
Any bare galvanised steel must first be washed with a mordant solution to ensure that future coatings will adhere. Following the preparation, the correct choice of paint is essential. Our preferred system usually consists of a zinc phosphate or two part adhesion promoting primer followed by two coats of a specialist semi gloss, steel and clad topcoat to ensure that the finish remains as close as possible to the original, factory finish.
The finished cladding can often transform a tired looking building with a huge cost saving over replacing sections of cladding where the paint has failed.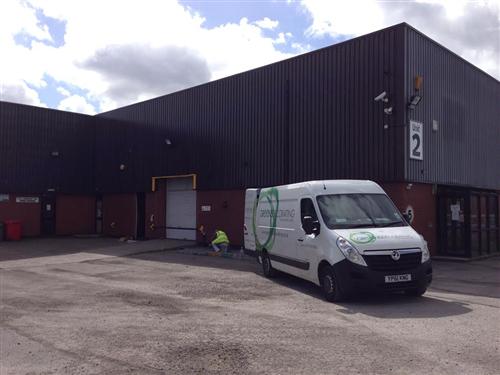 Edmundson Electrical, Wakefield
Greens have recently completed external painting works at Jack Hinton Electrical in Wakefield, a division of the Edmundson Group.
The external cladding was in a very poor state and much of the factory coating had failed leaving patchy, flaking areas of paint. In order to ensure a good quality finish, all of the previous coating had to be stripped back to bare galvanised steel. A photo during shows the bare metal after it had been ground back mechanically.
The next photo shows the elevation after being t-washed and primed with a zinc phosphate coating before the final two coats of topcoat were applied. The finished product looked as good as the original factory sprayed coating, but hopefully this time the finish will be more durable.
If you would like more information on restoring the appearance of cladding, please contact our team for free, no obligation advice.
Photos courtesy of FTL & Edmundson Electrical